If you follow me on Instagram, you know how much I love the LTK.it app and do you blame me? It makes shopping SO easy! In addition to how easy the app makes it to shop my looks (and other influencers that you love!), they also have some great exclusive sales throughout the year so check back to my blog for my updates on when those are! So whether you're new to the app or just need a refresher on how it works, I wanted to put together an overview of the LTK app and answer all of your FAQs.
How I Use LTK
First thing's first, let me tell you why I know what I'm talking about when it comes to all things LTK. I see so many "influencers" selling their courses and growth packages and then I click on their LTK profile and see they have 3,000 followers on the platform.
I have been on the LTK app for over 4 years and recently passed 100,000 followers! As of today, I have 150,000 LTK followers putting me in the top 75 of the 250,000 Influencers on the LTK platform. I have slowly built a massive following on the app using a few key strategies. Check out my LTK profile here.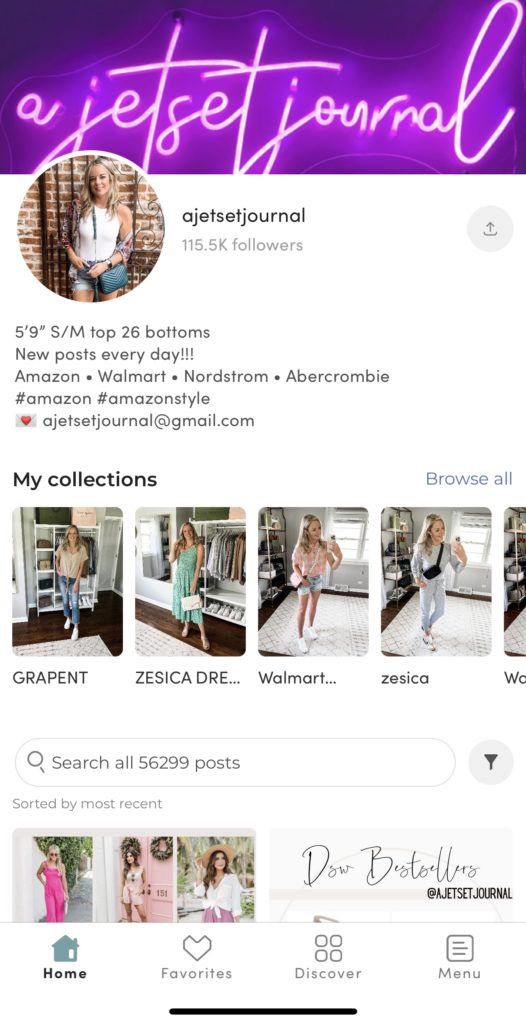 Once you've downloaded the LTK App from the app store, you'll walk through the steps of setting up a profile. Once this is complete, you can search ajetsetjournal which will bring you straight to my LTK profile.
What is LTK?
LTK is Like To Know It – a shopping app that connects Influencers with brands to give users an easy way to shop their favorite Influencers' looks. I often find myself telling people that LTK is like Pinterest, but everything is linked. We've all found that one outfit on Pinterest we HAD to have and after several clicks deep we've found ourselves on a hair removal site – pass. Just gimme the outfit deets, please!
Once you're on my profile, you can scroll through all of my outfit ideas, fashion finds, and outfits I've worn on Instagram and A Jetset Journal. All you have to shop is click on the image you want to shop and it'll not only provide you with the exact products I'm showcasing, but also related products that I know you'll love, too!
I am constantly sharing new products and my favorite fashion finds on the app! Expect new posts every day that I'm not sharing anywhere else.
What is LTKI?
LTKI is short for LIKEtoKNOW.it. The name has evolved over the years and was originally called rewardStyle (for the influencer side) and LIKEtoKNOW.it (for the shopper side). The name has recently changed from LIKEtoKNOW.it to just LTK.
What is LTK App used for?
The LTK App is used for shopping. It seamlessly allows influencers to post their favorite looks and products and users to view and shop those exact and similar products.
What is LTK Creator?
LTK Creator is the app that Influencers use to post on LTK. There is an approval process to become an LTK Influencer. If you are just looking to use LTK to shop you just need to install the LTK shopping app on your phone, not the LTK Creator app.
What is LTK on TikTok?
LTK on TikTok is just LTK Influencers posting their LTK content on their TikTok platforms on videos. The same LTK rules and approval process apply to TikTok. Influencers need to apply and get accepted to LTK to be able to post LTK links on their TikTok profile. You also need a minimum of 1,000 followers on TikTok to have a link in your bio.
What is an LTK sale?
Throughout the year, there are exclusive sales through the LTK.it app, which often includes retailers like Express, Abercrombie & Fitch, Madewell (!!!), and Tarte.
"How will I know which images in LTK.it have sales items included?"
To help make shopping even easier, LTK.it will mark the images that have items attached to them that are part of the sale! It's such a great feature that'll help save you time and energy. During each of the sales, I will be sharing store-specific graphics and products on the app!
Check back to my blog as I typically do an exclusive blog post for each LTK sale throughout the year. You can read my latest blog post for the LTK Spring Sale here.
Monetizing LTK
Does LTK charge a fee?
LTK does not charge the Influencer or the purchaser any fees. LTK charges a small fee to the brand when an item sells. LTK then takes a small cut and gives the Influencer a percentage of the commission – this is how LTK makes money and remains a profitable business. And this is how brands rely on influencers to help them sell their products.
How do you make money on LTK?
LTK Influencers earn a small commission (usually between 3-10%) when someone clicks on one of their links and makes a purchase.
How do you get approved for LTK?
The one thing I cannot reiterate enough here is that LTK is an Influencer platform. If you are looking to send links to your friends to make money you are better off with Rakuten or another affiliate links network.
In order to be accepted to LTK, you need to be an established Influencer who has built a substantial and active following. You will not get approved for LTK with an Instagram following of a few hundred people and no other social presence.
In the past, LTK was very particular about who they approved to be an influencer on their app – and you had to wait 6 months between each application. I recommend building your social media following and presence before applying to LTK.
Tips for Growing Your LTK
So, you want to grow your LTK following. As I mentioned before, I've been on the app for over four years and recently surpassed 115,000 followers! Gaining a big LTK following doesn't happen overnight but I've learned some tips over the years to help increase that number a little faster.
Post consistently. Aim to get at least one post up on the platform per day, more if possible.
Cross-promote your LTK content. Have a new post up on LTK? Cross-promote it on Instagram (in-feed and Stories), Pinterest, and your blog.
Add your LTK link to your Instagram profile. No one is going to know that you're on LTK or have new content published if they can't find a link to your profile. To make it easily accessible for your audience, add a link to your LTK profile on your Instagram landing page (or just add your LTK link to your Instagram profile!).
Create content focused on trending keywords/searches. As an LTK creator, you'll receive weekly emails from LTK that include trending keywords, searches, and products for the week. Utilize those as inspiration for any content you create!
Check out my Amazon Storefront
As always the thoughts and opinions shared here are strictly my own. Please feel free to reach out with any questions or concerns via the contact page here.