With home schooling looking like it's going to be the new norm, I am putting my 2 years of Montessori School teaching to use.
From 2008 – 2010 I was the lead teacher for the 3-year old Preschool class at Children's Garden Montessori School in Oak Park, IL. When I first started, I didn't know much about the Montessori method. You can read more about the methodology here but in short below is the TLDR version:
Montessori education involves free activity within a "prepared environment", meaning an educational environment tailored to basic human characteristics, to the specific characteristics of children at different ages, and to the individual personalities of each child. The function of the environment is to help and allow the child to develop independence in all areas according to his or her inner psychological directives.

In addition to offering access to the Montessori materials appropriate to the age of the children, the environment should exhibit the following characteristics: An arrangement that facilitates movement and activity, Beauty and harmony, cleanliness of environment, Construction in proportion to the child and her/his needs, Limitation of materials, so that only material that supports the child's development is included, Order and Nature in the classroom and outside of the classroom.

WIKIPEDIA
So basically the idea is you would create an environment that is focused on creative learning in an organized and clutter free way. The Montessori activities are ways for your child to learn while engaging in "play" activities. Some Montessori activities include: counting, sorting, pairing, all while using tools that they see adults interact with all day. These activities give children real world experiences while helping enhance their fine motor skills.
So let's say you are bought into the methodology and would like to implement some of the Montessori methods at home, well getting the "official" Montessori activities can be quite pricey – like up to $200 for just one small activity. Luckily, there are plenty of Etsy shops out there who have created homemade versions of the same Montessori activities. And here are some of my favorites. As always please reach out to me with any questions or ideas for future posts here!
FELT FOOD – $37.80
Your little foodie will love playing farmers market with this set of fruits and vegetables. The soft felt plushies are a great way to talk about healthy eating with your preschooler or toddler. Let them use this set to discover colors, counting, and shapes, the learning opportunities are endless which makes this petite set a thoughtful gift as well.
COLOR MATCHING BALLS AND BOWLS – $45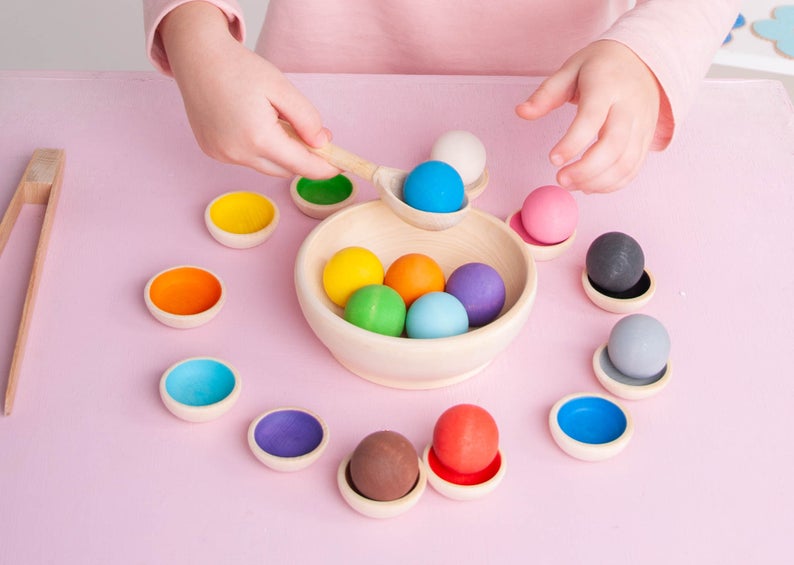 A Montessori inspired educational wooden toy is designed so that the child can study colors and develop fine motor skills in a fun and easy way. Color sorting can be fun and interesting. Little kids like to sort the balls matching color. You will be able to watch the joy on the child's face every time the color of the ball and the bowl coincides. Playing together with the child, you will help him to master the skill of counting and acquainted with elementary mathematical concepts: one/many, more/less, addition/subtraction, quantity/number. Balls and bowls is an excellent material for story and role-playing games. Children love to transporting colorful balls in trucks, sell in the store like candy or ice cream, feed dolls, etc. A little imagination and the possibilities of this game are endless! The set can be supplemented with tweezers, and for older children with simultaneous sticks. For children over 5 years old, the game can be used as a memory. Turn the plates with the painted side down, take the ball out of the bag and look for a suitable plate.
SENSORY RAINBOW BEAN BAGS – $33.99
The Sensory Rainbow Bean Bags are a perfect toy for babies. They are simple open ended toys that allow babies to experience many different textures, sounds, and colors as they play. Besides stacking, tossing and sensory play, as your baby grows this colorful collection can also be used for educational play such as color recognition, matching, and counting.
MONTESSORI BROAD STAIRS – $15
Objective:
To develop your child's visual perception of dimension.
To develop your child's coordination of movement (hand-eye coordination).
To help to understand the relationships between prisms with respect to height and width.
To help basic concepts of geometry.
Improve motor skills.
To increase Concentration
MONTESSORI MATERIALS FOR FINE MOTOR SKILLS – $8.50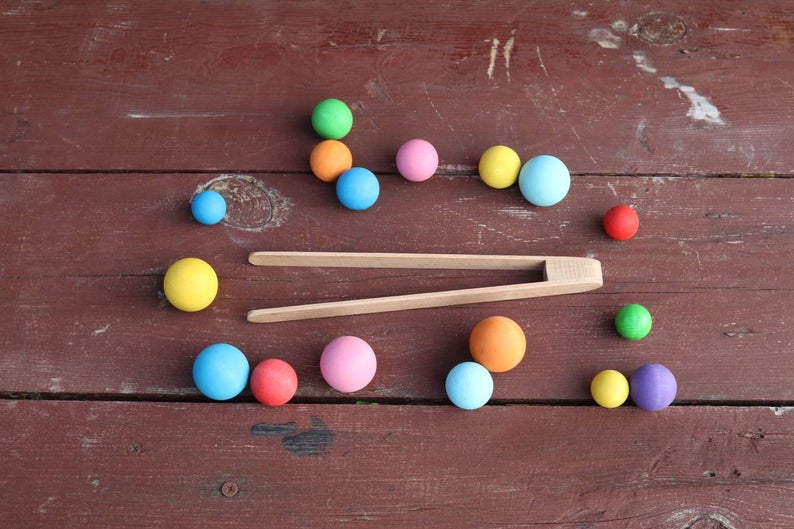 This Montessori tool is a great trainer for the development of fine motor skills of the hands. Suitable for games with balls, mushrooms, peg dolls and other objects up to 3.5 cm in size.
RAINBOW BLOCKS SET – $16.00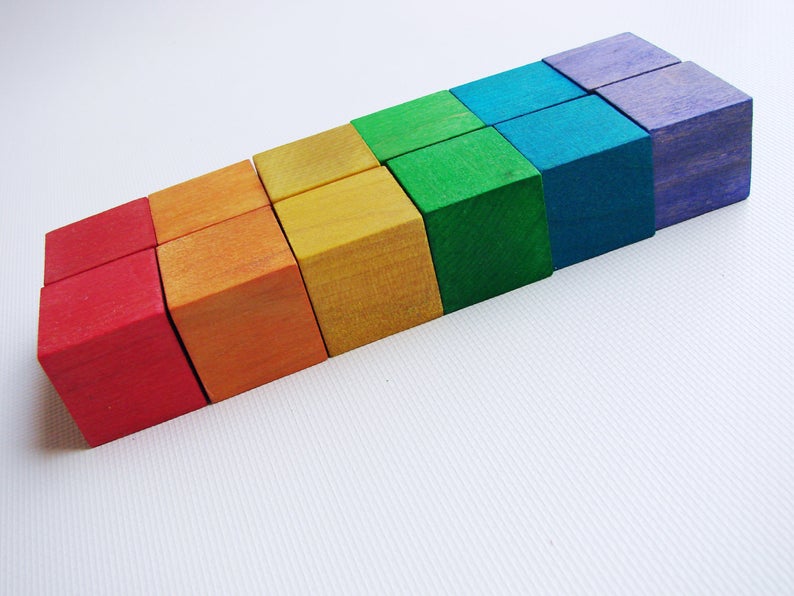 There is nothing like simple blocks to spark the imagination. You can create, dawdle, build, roll, and explore endlessly with this starter set of 1" blocks. A dozen (12) blocks in all – two of each color – are enough to build a rainbow. Allow your little engineer to explore physics, gravity, balance, and structure. Help build fine motor skills while practicing the simple, yet challenging, act of stacking the blocks on top of one another. How high you can build your skyscraper tower before the blocks come tumbling down? Match the colored block pairs together to practice beginner color recognition.
FARM WOODEN MEMORY MATCH GAME – $29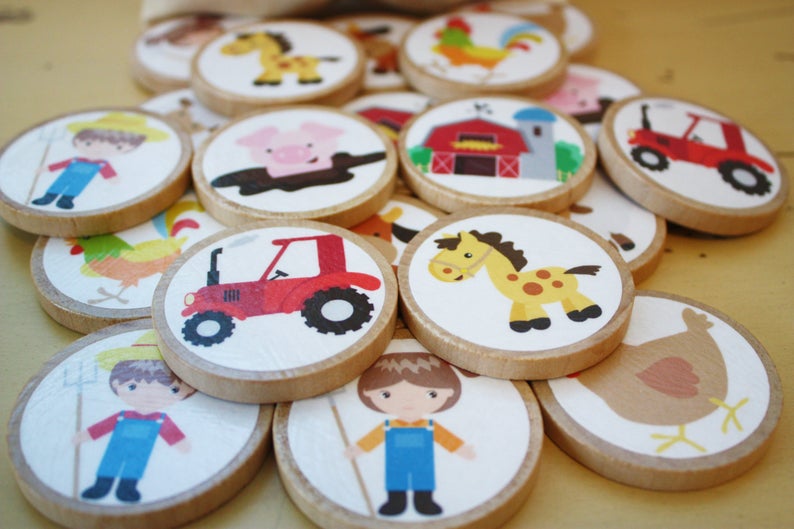 There is a total of 22 pieces (11 matches). One side is blank and the other side features an adorable "Farm" character. Comes with a handy-dandy 6 x 9 inch drawstring muslin bag for storage. This bag can be personalized with the child's name to read ….. "Emma's Farm Match"
1-10 NUMBER BOARD – $20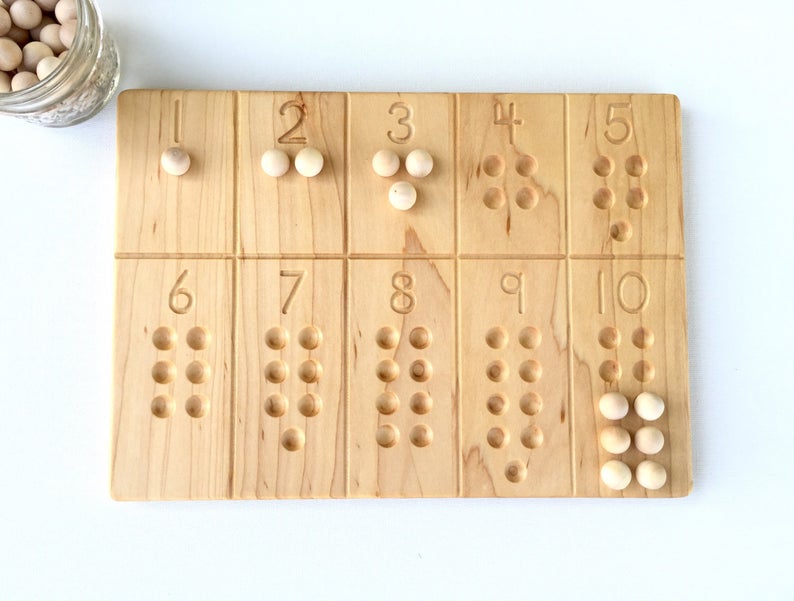 This board is a combination of learning to write numbers while identifying their value. Trace the smooth grooves of the large numbers to feel each line and curve, building muscle memory for repeating the motions when writing on paper. Fill the dimples with wood balls (or beads, snacks, stones, shells, etc) matching the number of items to the written number.
MONTESSORI WOOD PENCIL HOLDER – $31.90
Small Montessori pencil holder. Ideal for home use where every inch of space counts. Measures only 40 x 7 cm (15 x 2,75 inches). 11 holes will fit 10-12 regular size pencils each. If larger pencils are used, then 5-6. Coated with linseed oil. Pencils are not included!
BALL & POT COLOR SORTING – $32.99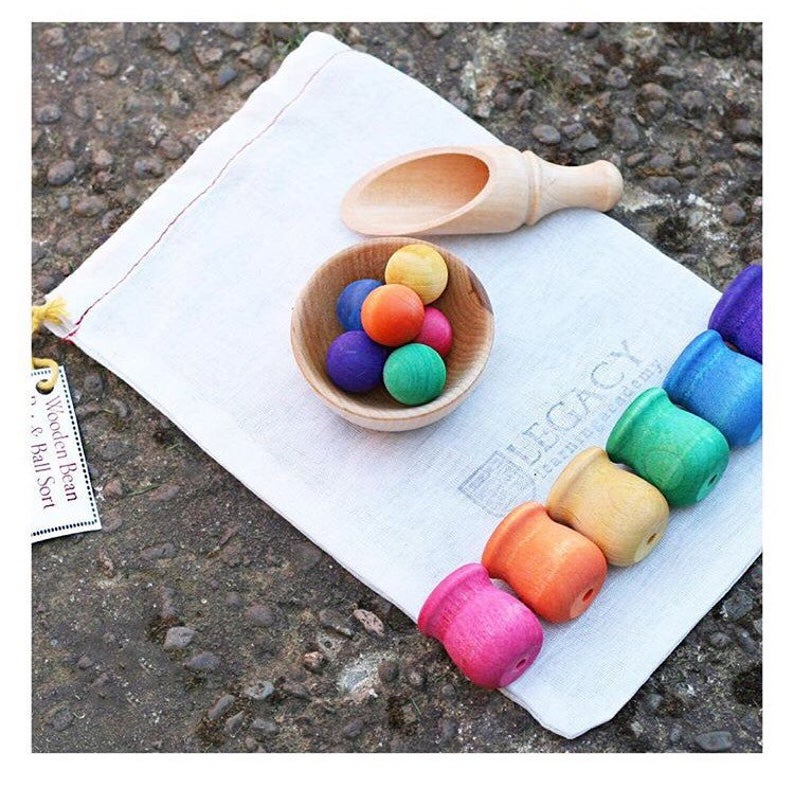 This Montessori wooden toy is ideal for even the littlest learners to grasp and play. Handcrafted to entice color-recognition and fine-motor skills, this colorful matching activity will give your child plenty of hands-on play as he sets to work stacking, sorting and matching. It includes six wooden balls and six matching bean pots along with a wooden sorting bowl and scoop to facilitate active play. It will arrive neatly packaged in a muslin travel bag for fun at home or on the go. It also makes an impressive gift idea for any occasion. It is an original Legacy Learning creation.
KINDERGARTEN WORKBOOK PACKAGE $3.50
Includes 140 worksheets, Including the following:
1. Alphabet
2. Trace letters, A to Z
3. Practice letters and draw picture worksheets
4. Sight Words
5. Sight Words practice cards
6. Trace sight words
7. Shapes (rectangle, circle, oval, triangle, square)
8. Numbers
9. Ten Frame Count
10. Count and Match
11. Counting Practice
12. Skip Count
13. Fill in Missing Numbers
14. 10 more 10 less
15. Addition
CRAYON ORGANIZER – $28
Store your childrens' crayons and/or small colored pencils in this beautiful wooden crayon holder.You can leave this crayon holder out and not have to worry about the crayons being all over the place. This crayon holder also gives you easy access to each crayon.
WOOD TRACING BOARD – $40
An original idea From Jennifer, this printed alphabet tracing board offers your child wonderful learning opportunities. Follow us on Instagram for more ideas on games and ways to use your board. The engraved maple wood has gently curved grooves, providing a form to trace with either your finger or the included tracing stick.
QUIET BOOK – $62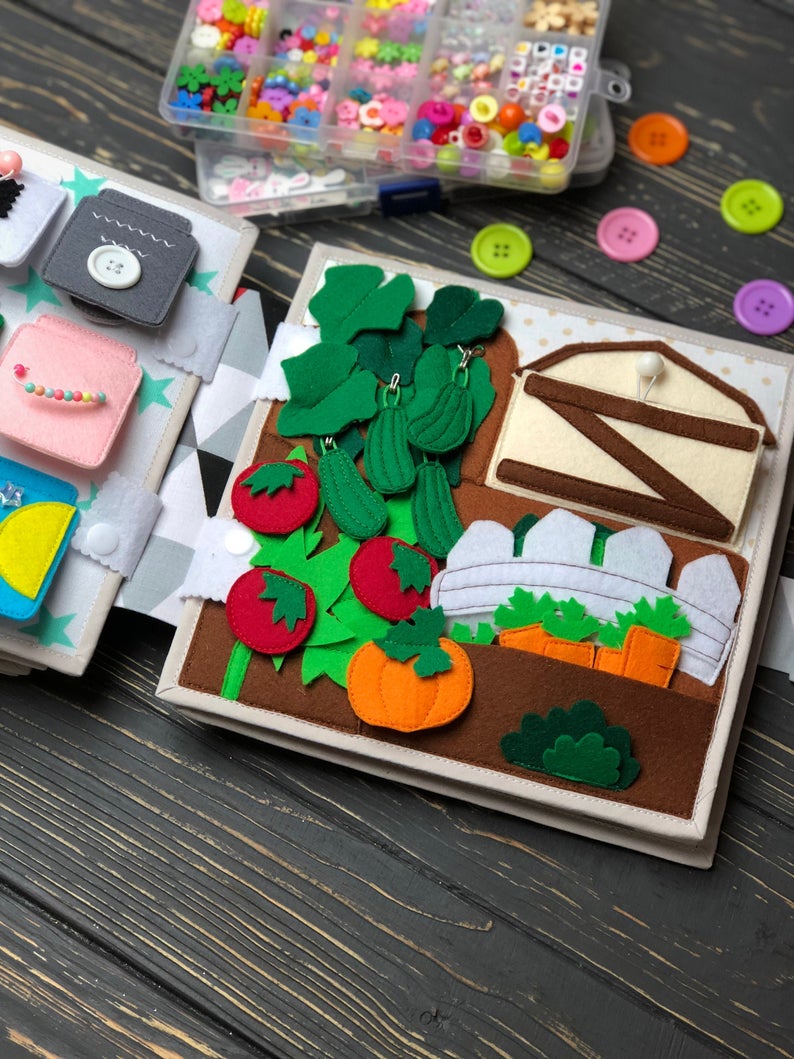 It's a useful activity fabric book that develops fine motor skills!

This is the most important thing for the child, because a well-developed fine motor skills leads to good memory, speech, intelligence.
100 COUNTING BOARD – $34.95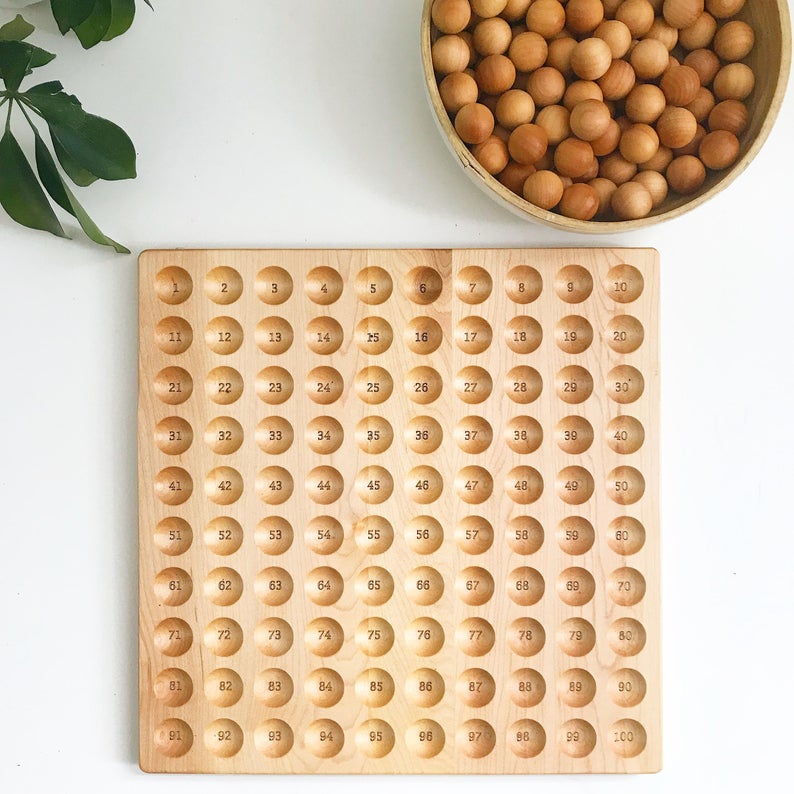 Playtime is learning time! Our traditional Montessori hundred board has been modified for a bit more open-ended play so it can grow with your child. Introducing your younger child to a hundred chart will help him/her learn to count and recognize numbers and find patterns. It's an amazing hands-on learning tool and fun too!
Modified Hundred Board
· Educational and creative toy inspired by Montessori and Waldorf approach of education
MONTESSORI MOTOR DEVELOPMENT SET – $61.99
This set includes everything pictured (in order of developmental progression):
The palmar block, the ball and cup, the pincer block, the single circle puzzle, the three first shape puzzles, the three peg block, and the six stacking blocks.
10 FRAME COUNTING BOARD – $27.95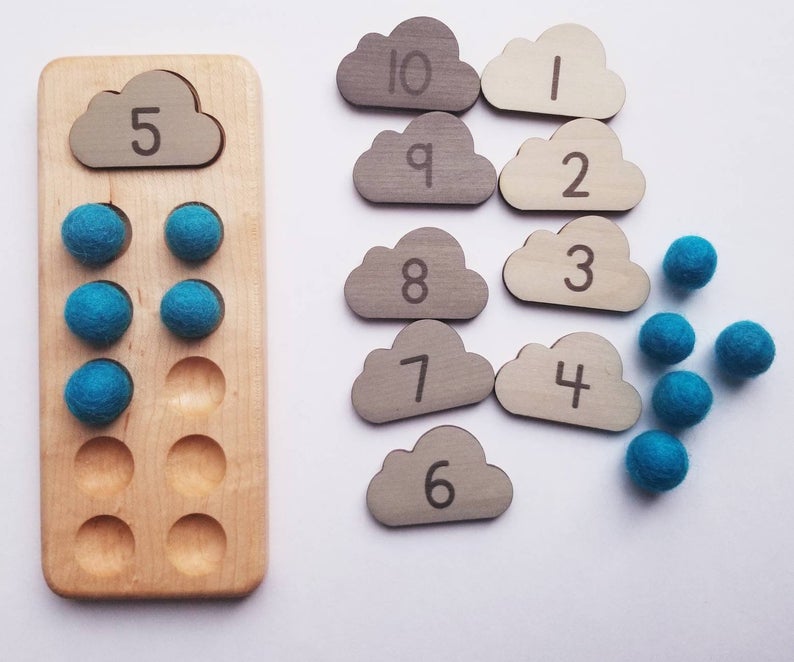 Ten frames are a fun and beautiful way to learn to count 1-10. This super fun twist using the clouds and raindrops adds a little bit of whimsy and a whole lot of intuitive learning. The clouds increase in color intensity as the number grows, intuitively telling the kids there should be more raindrops.
Learn to count
Add
Subtraction
Develop number sense
Develop fine motor skills
Learn even and odd numbers
Compare two numbers and find which is bigger and which is smaller
MONTESSORI 3-PART CONTINENT CARD – $11.50
Learning the 7 continents of the world has never been easier using these 3-Part cards! With this collection of 3-part cards, your child will love to learn all about the 7 continents of the World and build their language abilities.
Montessori Three-Part Cards refer to card materials that children manipulate in order to internalize the information on the cards. The Montessori Early Childhood Three-Part Card consists of a card with the picture with word label, a card of the picture, and a card with the word label.
MONTESSORI LETTER MATCHING – $39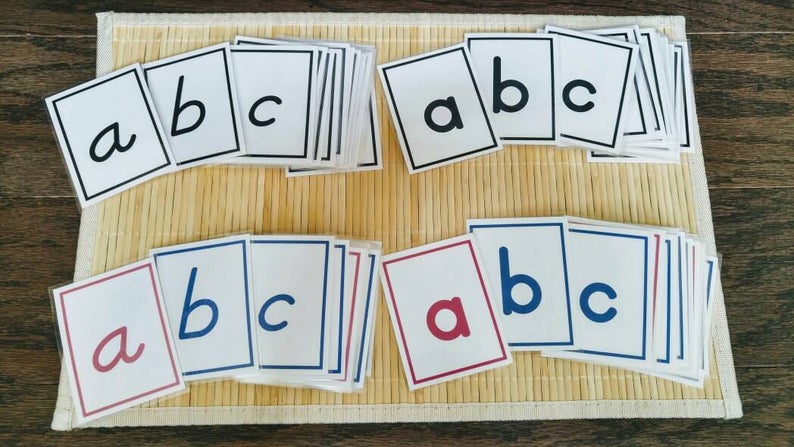 This Object/Letter Matching activity is fantastic for a classroom setting, a daycare or home school environment, or as an extension to your educational learning home. Children can match a variety of objects to their corresponding beginning sound.
MONTESSORI KNOBBED CYLINDER BLOCKS – $32.99
There are 4 blocks with 20 knobbed cylinders in varying heights and dimensions. Each cylinder fitting into its respective hole.

We made the blocks with bigger knobs, so child can take out the cylinders more easily

Teaching purpose:

Visual discrimination of dimensions

Fine motor skills practice: coordination of the fingers used to hold the pencil. It is an important practice for writing in the near future

Preparation for mathematics.
MATCHSTICK COLOR DROP – $24.99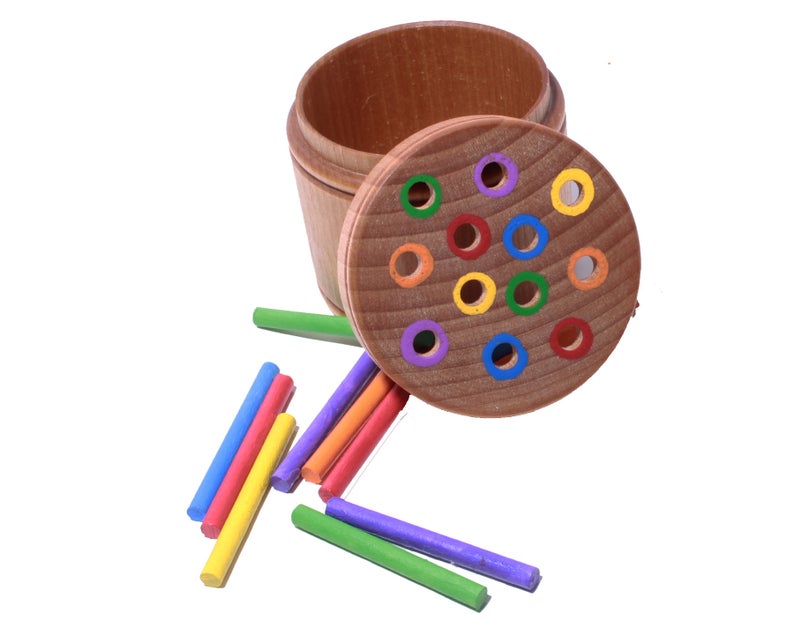 Montessori Fine Motor Activity, Matchstick Color Drop, Toddler Montessori Activity, Color Sorting Game, Color Matching Toy
Toddlers love to put sticks through holes. I designed this activity by watching my toddler play with actual toothpicks and enjoying putting them through holes and then dumping them out. I felt she needed an activity safer than the toothpicks. In the beginning the child may put the dowels through holes without considering the colors. Then the child will try to match the colored sticks to the colored holes. Because the container gets filled, the last 2-3 sticks may prompt the child to shake the container to have the sticks drop inside. The child develops fine motor skills when trying to pick up the sticks and putting them through holes.
MONTESSORI WOOD RAINBOW – $19.99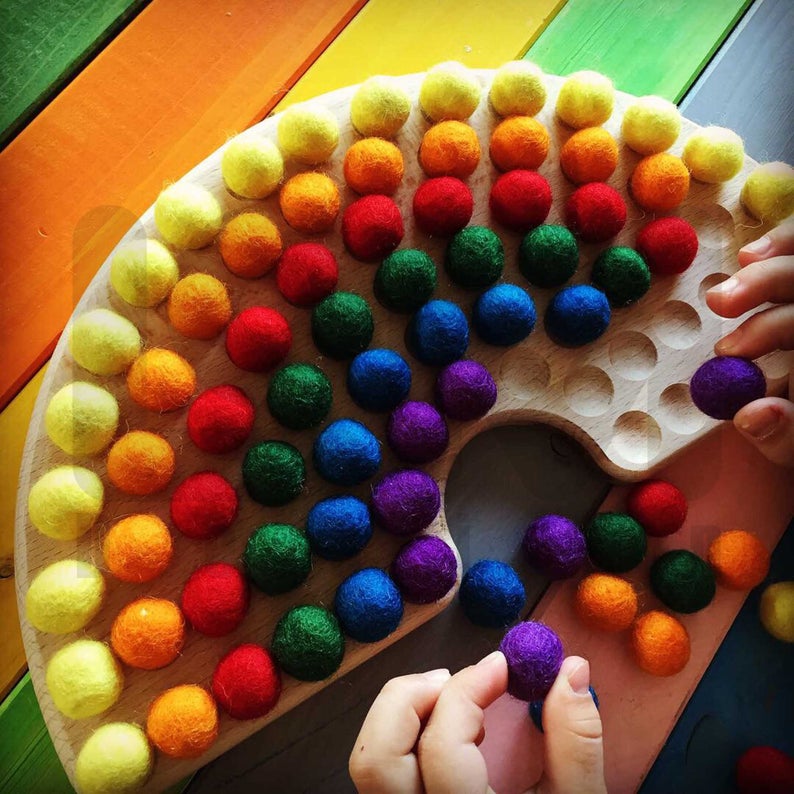 The rainbow offers your child a wonderful learning opportunity to arrange the colors of a rainbow or as desired.
Love what you see? Please click the button above to follow me on the LTK app!
Did you know that you can follow me directly on the Amazon app? You sure can, click here to check out my Amazon Storefront and get updated when I make new posts and go live.
A Jetset Journal partners with several affiliate programs, meaning that I can earn a commission from purchases/clicks by those who visit this site at no additional cost to you!
As always the thoughts and opinions shared here are strictly my own. Please feel free to reach out with any questions or concerns via the contact page here.